Using the Force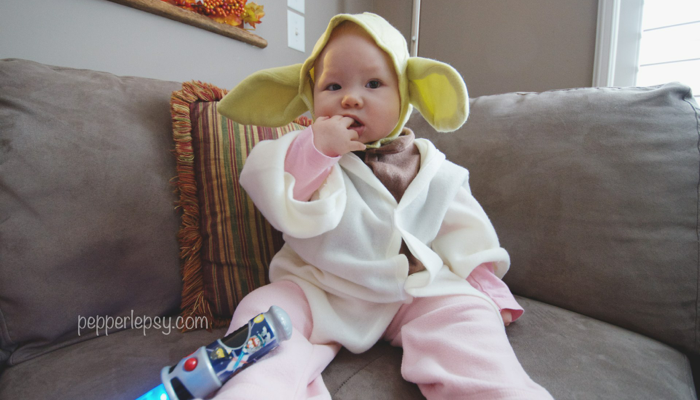 Don't know about you, but we managed to stay relatively dry for Halloween. Yoda here went around to the neighbours secured in Daddy's arms while her bodyguard Bumblebee (of the Transformers variety) kept in step. Our seizure count is now at 143 (approximately). We are now approximating her seizure count because as we have discovered this week, Pepper has been very quietly sneaking in a few seizures at night time. These are the scary seizures that keep me up at night. The ones that would pass unnoticed if we had not been physically holding onto Pepper as we lay beside her. Being human as we are, there are times when even we can't stay awake to watch. And in those times of weakness, if we are not holding onto Pepper, we rely on the Force to wake us if she has a seizure. Have we missed any? We may have. And that is worrisome. 
For Pepper, it has been business as usual. Though she did take the day off daycare on Wednesday to recover from a series of seizures she had in the early morning. For Pepper that meant she was able to catch up on some much needed sleep at home, but missed all the fun things going on at daycare as a result. We hope that someday we won't feel the need to keep her home and have her miss out on all the fun her friends are having. Right now it's hard to see her future rich with all the normal activities of childhood. How do you not worry about falls? How do you take your epileptic child swimming? To the beach? It's tough not to get carried away with sadness and fear when thinking about those things. So as much as possible, I try not to. As the banner of this blog says, we wish to "unseize the day". At the same time, it is of the utmost importance to seize the day. As much as we can't predict her next seizure, we also cannot predict what life will be like for her, or what it will be like for us caring for her. 
When people become parents of a normal healthy child, they have a certain expectation that their child will go to school, make some friends, possibly play some sports, go out to dances, even drive a car maybe. The parent of a sick child cannot think about those things. For the sake of sanity, the parent of a sick child must remain in the present day. Our beautiful 12 month old baby may not be walking yet, or pulling herself up, crawling or even saying any meaningful words, but she knows who we are, she smiles lovingly at us, touches our faces and our hearts everyday. She is the miracle we have been given to love and cherish. Whatever you believe in, whatever you call it, it is this Force that keeps us. And may the Force be with you.